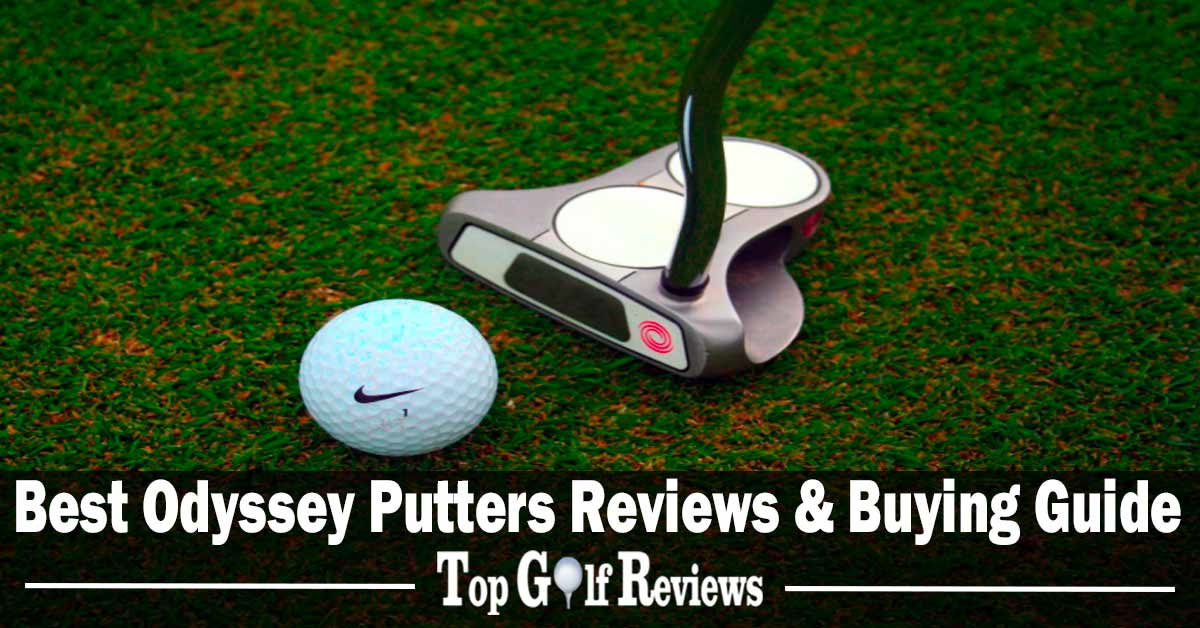 Over the past few years, Odyssey has become a reputed brand, known for its innovative and modernized golf equipment. It won't be wrong to say, that Odyssey invests more in innovating and implementing better and more creative ideas, than on spending on any other purpose.
Subsequently, when searching for world-class putters, you'll find all of the Best Odyssey Putters on that list. Similarly, opting for one of the choices from Odyssey putters is an appreciable decision, indeed. Here, a question might arise in your head, why are Odyssey putters better than others? Well, the answer in my head's very clear so I'll explain it to you as well.
As mentioned earlier, Odyssey aims to spend on the innovation of its line of golf kits. For this cause, they introduced new additions, from Stroke Lab shaft, multi-material premium built to firm weight distribution, accurate distance control, and many others.
Related Post's:
Moreover, the years 2021 & 2022 are among the successful years for the Odyssey line. Other than the variations stated above, they also introduced the EXO line with a White Hot Micro hinge insert. It resulted in a fruitful response as it had impressive forgiveness.
Without any doubt, Odyssey is a reputed name for providing quality and variation for its customers. Its wide range of products is suitable for almost everyone willing to play golf. For this purpose, I've compiled a list of the best ones along with a detailed description of their features.
Without delaying further, let's move on.
Best Odyssey Putters in 2023 – Quick Comparison:
Best Odyssey Putters in 2023 – Detail Reviews:
1. Odyssey Stroke Lab – Best odyssey putter for beginner:
Onto the first one, it is the Stroke Lab putter incorporated with the triple track alignment system. It offers impressive forgiveness, and other quality features too. This product shows the innovation Odyssey has been making to cater to the needs of players.
Let's read the features of the 2-ball putter stated below.
Features:
Vernier Hyper Acuity
Triple track line alignment system
Multi-material shaft
White Hot Microhinge Insert
Left-hand orientation
Odyssey Stroke Lab Triple Track Putter Review:
In relevance, to the impressive performance and salient specs of this putter, it is worthy of graceful design and subsequent alignment with the best forgiveness.
Triple Track Alignment:
Here, this system developed from Callaway's addition for the golf ball alignment incorporates three Triple Track lines. These lines are prominently featured to assist in providing better putting accuracy.
Besides, this system uses the Vernier Hyper Acuity for a more compatible aligning as it's pivotal in good putting. Not to forget, this design's incredibly intuitive and offers a user-friendly interface.
Also, the variation of hues and spacing is vital in aiding the thought process, visualizing accurate alignment, and increasing it consistently. These visual clues are similar to those that pilots use for landing on aircraft carriers.
Stroke Lab Weighting:
Moreover, the inventive multi-material stroke lab shaft preserves 40 grams of weight, which is then, re-allotted amongst the putter head and grip. This distribution results in the rebalanced weighing of the putter for improvised speed and consistency.
Also, this major-winning technique of Callaway carries on promoting good representation around the world. Moreover, most of the Triple Track putter comes along with the Stroke Lab hybrid shaft which top players use. It's known for improving some putting strokes bar by an increase of 20%.
New Microhinge Star Insert:
Also, the new star insert offers a firmer feel and an enhanced sound at the impact. In comparison, this one maintains the same roll benefits of the renowned White Hot Microhinge Insert. Besides, this putter is already the top pick of some best players around the world.
Other than that, it also reduces skid benefits similar to the White Hot Microhinge insert. It has been years since this edition of the Callaway brand still it's going strong and works the same as before.
Conclusion:
Amongst the top Odyssey putters, this one holds a significant value as it's an impeccably top-performing putter for splendid putting.
2. Odyssey Stroke – Best putter for push putts:
Next up, it is the Stroke lab shaft putter in the Big seven style. It is an alloy steel putter in the color black. This Odyssey Bird Prey putter provides the best performance by using advanced technological solutions.
Accompanied by distinct features, it proves to be a quality putting equipment.
Features:
Multi-material Stroke Lab shaft
Lightweight shaft with redistributed head and grip for rebalance
New Microhinge Star firm insert
Enhanced black PVD finish
Face balanced mallet with full-shaft offset
Most of the Odyssey putters have secured full ratings as they're immensely splendid at all means, and so this one too with prominent features.
Suitability:
Here, I have to say the added stability makes short putts feel incredible with this putter. That said, it requires you to make an immense effort and practice alongside for getting on with it.
Another reason for this putter being good is its ability to minimize the nervousness for a confident play. The only way possible requires some time allotted for serious practice without any interruption.
Putter Feel:
The stroke feel of this putter is unduly mechanical similar to its putting style. Hence, it will require some time to switch to this one. If you haven't felt comfortable while opting for short putts using other putters, this pick is the most suitable one for you.
This arm lock putter provides stability and is worthy of experimenting for shorter putts. For me, the arm balancing between the head and the shaft seems to be simplified by this arm locking method. So, if you like short putts, I'd recommend you to consider this option.
Premium Finish:
Having a combination of decent black PVD finish and coating, it provides these putters with a clean and rich look. They complement the Stroke Lab designs using silver and black hues. Besides, the anti-glare finish on them is useful for outdoor golfing experiences. It emits the sunrays and doesn't interrupt as a hindrance in the play.
Conclusion:
Although it does require time, it has to be the best putter under 200 you'll ever come across for excellent putting.
3. Odyssey Works – Best putter disc for beginners:
Moving on, third on the list is the works putter with Marxman as its style name. It uses a pistol grip as its shaft type which isn't the same as a super stroke grip. It has similarities as well as differences from other models of this line. Let's read the description below to find out further details.
Features:
Micro hinge face insert combined with legendary White Hot feel
Tip heavyweight relocated shaft
Stiffer Stroke Lab shaft
Lighter grip for better control and consistency
Face-balanced mallet
This one offering unmatched specs alongside an aesthetically pleasing appearance gains much attraction for its exclusive design.
New Face Insert:
The new Microhinge technology offers incredible benefits in topspin and roll at impact for all kinds of stroke. The stainless steel Micro hinge plate transformed into a Thermoplastic Elastomer Feel Layer gives a great feel. It helps in getting the ball into a better roll at impact.
Black Finish:
For players who like a clean and simple look at the address, this black-hued finish has been a favorite for many players. Most of them love the black color on the putter head as it provides a bold feel. Moreover, the anti-glare layering on the head eliminates any sun rays which hinder the play and disguise the alignment process.
Field Use:
Furthermore, the design of the Marxman putter allows for easy allocation when addressing the ball. The large putter head laid into the club allows for lining up with the golf ball to get the sweet spots. The ball has a solid and clicky sound and rolls like there's no tomorrow.
Besides, this Marxman putter is face-balanced and perimeter-weighted, unlike the 2-Ball which has an enlarged mallet head and circles fitted into the mallet head for alignment purposes.
Many Odyssey putters provide a low CG which elevates the stance of a pendulum putting stroke. The mallet-style also helps in the reduction of backspin on putts.
Conclusion:
Overall, it is a commendable pick as it's among the best price odyssey putters accompanied by distinctive features.
Proceeding on, here I have the White Hot Pro 2.0 putter, and its style name is #1. Among all Odyssey putters, it is one of the top-selling products as it has an unmatchable design, indeed. It meets the demands of professionals and caters to the needs of the modern world. Here, below is a detailed read about the specs of this putter. Let's read it out to find out more.
Features:
Re-engineered White hot insert
Laser milling insert
Heel/toe weight placement
Jumbo grip shaft style type
Left-hand orientation
Being the best-selling putter and providing customers with classy benefits, it has all reasons to inspire its customers.
Insert Technology:
In this new White Hot Pro 2.0 Putter, it has an insert that consistently performs better than others. Odyssey is the top manufacturer of putters in Golf. For this cause, they engineered this putter to fulfill the performance criteria to roll in the maximum number of putts. They are trustworthy, and I bet, you will trust it on its every putt too.
Eye-Fit System:
Callaway incorporates a mirror-based system that assists, in choosing the right head shape based on your ball setup. The nearer you and your eyes are to the ball, the more chances are to have a straight back through the arc.
Similarly, the farther your distance from the ball, the higher the chances of having an arced stroke. Besides, the fitting process of this putter owns a particular system to provide the desired result.
Alignment Aid:
Besides, the contrasting alignment helps to promote stroke consistency and also maximizes accuracy for getting the desired result. The alignment system assists on top of the clubhead to help you to strike that all-important shot. This is created contrast in the look of the club head to make it very clear to see.
Shaft Hosel:
On the other hand, the full shaft hosel property of this putter is one of the features that make it amongst the best blade putters. The hosel assures that the hands remain ahead of the ball at impact to receive an upward strike, always. Moreover, this crank neck hosel, combined with the useful and clever weight distribution provides a much better feel. this one is also under 100 putter
Conclusion:
The White-hot Pro 2.0 is on the list of the best blade putters Odyssey has ever manufactured for its customers.
As our next pick, we have a splendid putter, and this time it's the EXO with the style name 2-ball S. It is different yet amazes us with its exceptional traits and quality features. Let's have a look at the specs of this model in detail.
Features:
Multi-material construction
Legendary White Hot Feel
Stroke Lab Shaft Weighting for enhanced performance
Balanced and toe-hang options
Uniflex left-hand orientation
Being slightly heavier on the pocket, it is one of the most appealing clubs of golf gear for stable striking.
Increased Forgiveness:
Here, the Odyssey EXO offers an immensely high moment of inertia for offering increased forgiveness. The premium multi-material of build quality maximizes the MOI for obtaining a consistent and constant speed and direction for putting the ball.
Meanwhile, this procedure uses the lightweight milled aluminum EXO-cage. It proceeds, by deducting the weight from the center and reallocating it accurately, to get the required result.
Legendary Feel:
The Oddysey EXO putter uses the White Hot feel for providing the clicky sound and incredible performance. This feels insert is one of the most successful innovative ideas of all time, indeed.
Moreover, the White Hot feel of this putter amalgamates with another technology known as the Microhinge which further enhances the feel. Besides, it also initiates forward roll for consistent and more accurate control over the distance.
Stroke Lab Shaft:
This putter is known for incorporating new techniques. Another one used in this putter is the Stroke Lab Shaft innovation which distributes the weight correspondingly amongst the putter's surface. The shaft constructed out of steel and graphite tailors the dynamics for a swifter and better stroke performance.
Mallets:
The Odyssey putters provide various options which include face balance as well as toe hang for versatility. The face balance option lessens the rotation in the stroke. On the other hand, the toe hang opts for providing, increased rotation to the players.
However, the stroke, whether lessened or increased, won't have any effect on your game as the increased MOI sanctions for more and more putts.
Conclusion:
Being comparatively expensive among all Odyssey putters, the EXO is distinctive and an appreciable splurge only if required.
For the next Odyssey putter, I have a ladies putter named White Hot Pro 2.0 which has a right-handed orientation. It is a premium golf putter that provides ladies with a user-friendly interface for easy handling and control. Listed below are the features this putter has in stores for us.
Features:
Improved version of the #1 insert on Tour
Laser milling process
Eye-Fit system
Traditional blade shape
Winn Odyssey Stock Rubber grip
Here, this adorable club is coming to give consistency to ladies while playing with an iconic design and durable construction.
White Hot Insert:
The Odyssey best women's putter has a Tour tested White Hot insert. The team at Callaway has highly engineered every aspect of this insert to assure that it results productively for its consumers. Especially for women, this putter offers an intuitive and easy-to-use interface for using it properly.
Moreover, this insert technology promotes consistent sound and feel for initiating a better game. This consistency helps in improving the performance across the putter face for splendid golfing.
Eye fit System:
Another system that this putter has is a mirror-based technique. It assists in selecting the correct head shape that matches the setup of the ball for promoting accuracy.
When it's closer to the ball, it provides a straighter stroke that's easy to hit. Whereas, when it's far from the ball, the stroke provided is in the shape of an arc which seems difficult to hit. Each of these putters has a dash system on the sole to aid selection.
Suitability:
As the caption says, this putter design is specifically for ladies as it suits women better than men. Other than being user-friendly and hassle-free, the lightweight quality also adds in as a benefit.
Weighing around 350 grams, it has a slimmer and easy to lift shaft as most women aren't muscular as men. In addition to that, it includes a headcover for keeping your putter safe and secure when not in use.
Conclusion:
Overall, the intuitive handling and care and other features make it one of the best ladies golf putters Odyssey has ever introduced.
7. Odyssey Stroke Lab – Best putter for slow greens:
For the next option, we have the Stroke Lab Versa putter in Double Wide style, which comes with a pistol grip. The specifications of this putter, speak of innovation and modern technology. Also, it's unique from many other putters, due to the difference in shape, grip, etc. Not only the looks, but the system used is also new for the golfers.
Let's find out more about the Versa putter.
Features:
Multi-material Stroke Lab Shaft
Innovative Weight Distribution
Stiffer and Lower Torque for Increased Control
Sole and Grip Weights
White Hot Microhinge Face Insert
It is a unique putter, and so the pricing is relatively high. In relevance to its cost, it's half a point far from the previous putter.
Putter Appearance:
Mostly, Odyssey Stroke Lab putters have a color combination of silver, white, and matte black. Similarly, they also include a silver putter face and toplining, a black flange, and white detailing. These details make the mallet size appear tinier than their actual size.
Although the shaft appears unusual, it has nothing to do with the appearance at impact. Besides, it has a steel portion at the bottom that extends far enough to dismiss anything unpleasant when you stand over to hit the ball.
Sound & Feel:
Also, the White Hot insert used in this putter is superb, and for many good reasons. It provides a soft and firm feel in a way that no other putting brand can replicate. The sound at impact is extremely quiet and dull.
Besides, the rigid and connected feel isn't mushy or dead like many inserts that claim to provide a soft feel. Other than that, the impact sounds and feels the same across the face while extreme toe or heel shots may create twisting.
Shaft Performance:
The putter's shaft uses a blend of graphite and steel material for reducing the weight. Weighing only 75 grams, it is far lighter than the typical steel shaft. Moreover, Odyssey claims to distribute 10 grams of weight in the back and 30 grams on the grip, and this method is called the counterweight technique in the grip.
Besides, the shaft allows for the creation of a counterbalanced putter without increasing the total weight. It feels incredible to almost everyone as it doesn't burden your hand.
Conclusion:
The light-weight technology of this product makes it the best odyssey putter for most of us.
8. Odyssey Stroke Lab – Best putter for pop stroke:
Let's proceed to the next pick, is the Stroke Lab EXO putter which speaks of innovation through its advanced technological features. The advancements include the EXO construction, White Hot Microhinge Insert, and Stroke Lab Weighting which help golfers to make more putts.
Features:
Maximum Forgiveness From Multi-Material Construction
Multiple materials for concentrated weight
Legendary White Hot Feel and Immediate Roll
Iconic White Hot sound and feel combined with Microhinge
Stroke Lab Shaft Weighting
It uses innovation to provide the best play with the enhancement in your skill and confidence.
Maximum Forgiveness From Multi-Material Construction:
Here, the Stroke lab EXO provides a maximized MOI layout using its premium multi-material construction. The lightweight and milled aluminum ext-cage has replaced the center weight and head to its perimeter, which is constructed using stainless steel material.
As a result, they were able to concentrate the weight, increase the MOI significantly, and provide consistent ball speeds and directional control.
Legendary White Hot Feel:
Besides, the White Hot feel is one of the most successful innovations of Odysseys history. Using its revolutionary feel, I get the incredible sound and iconic performance. As an additional element, manufacturers have taken the White Hot insert and joined it with their known Microhinge technology. So, it initiates immediate forward roll for better and consistent accuracy as well as distance control.
Stroke Lab Shaft Weighting:
Another technology is shaft weighing which further enhances the game for better striking. It is their revolutionary new multi-material Stroke Lab Shaft designed for accurate and suitable weight distribution. The graphite and steel shaft helps to save weight which is relocated at the ends of the putter for drastically changing the performance dynamics to launch a smoother and more accurate stroke.
Mallets with Toe Hang:
Odyssey continues to provide world-class products for the mallet category. This EXO putter has both, the face balanced option which reduces the rotation for the stroke, and the toe hang option which allows for an increased face rotation which is available on each model.
Moreover, the intensity of stroke doesn't matter, as these mallets come along with ultra-high MOI to assist for more putts.
Conclusion:
Studded with innovations and modern technologies, this is the classic golf putter odyssey has ever introduced.
9. Odyssey Red Ball – Best putter for forward press:
I've almost reached the end of this list. Here I have an Odyssey Red Ball putter, a face-balanced mallet putter with a Red Ball scope. The distinctive specs are the Versa high contrast alignment along with the White Hot RX insert for added assistance. Let's move onto its detailed description below.
Features:
Versa improved alignment
Forgiveness with mallet shape
White Hot sound and feel
Innovative Red ball
Left-hand oriented
The size and weight of this putter are more than some of the putters listed above. So it is considered as one of the dominating clubs in the market.
Putter Layout:
Here, the Odyssey Red Ball putter has a rounded, mildly-triangular, neo-mallet. The aiming features include a slim, white topline which is surrounded by a lengthy white horseshoe. The flange seems to have a thick white stripe for delivering black/white/black Versa look.
About the Red Ball feature, it has a black ring situated above it and inside the horseshoe. For example, if you place the ring around the ball, it will result in a proper address position for hitting your shot.
Cool Sound & Feel:
Also, the Odyssey Red Ball putter has the White Hot RX as the insert. It provides a feel that must be similar to thousands of golfers, and almost everyone will find it comfortable. Indeed, the White Hot insert is surprisingly firm, which is a plus point.
However, because of this firm insert and stable putter head, it receives less feedback for the strike quality. For instance, if the ball is hit from the heel or toe, a little twist will occur, but it will not affect your game.
Best Striking:
The Red Ball capacity is a benefitting thing as it is easier to get the ball in the ring, still tough to get it just perfect. For this reason, this putter requires extra focus from the golfers at the time of putting. The Versa paint scheme of this putter provides a user-friendly interface as aligning is made easier.
About the Red Ball concept, I've got mixed feelings as I have never used it before. Getting the golfers the right length and lie angle for putting is the most critical thing. If it's not delivered correctly, the Red Ball is going to launch them into the incorrect position.
Besides, this Red Ball can be good training equipment for providing consistent positioning.
Conclusion:
So, the Red ball putter's best job is to provide enhanced alignment and control over your shot and is the best price odyssey putter.
10. Odyssey Black – Best putter for cross-handed putting:
The last one is the Odyssey O-works chrome putter in style tank # 7. It comes along with a mid-sized pistol grip. This chrome putter is black-colored and is available in several different designs too. This putter is a modified mallet with weighted alignment wings, Microhinge Face Insert, and many more. Let's check out its other features.
Features:
New Micro hinge Face Insert
All-black finish
Tour Proven Shapes
New innovative mallets
Winn AVS Mid-Size Pistol grip
Odyssey 2018 Black and Chrome O-Works Putters Review:
Here, this adorable club is bolting with elegant finishing and tour-proven shapes for achieving consistent strokes at greens.
Microhinge Face Insert:
The Microhinge insert technology in this putter offers incredible gains in topspin as well as the roll at the address irrespective of the stroke intensity. Therefore, it assures satisfying gameplay for its customers to build trust.
Also, the construct includes a stainless steel Microhinge plate which is co-molded for providing the right feel at impact. The Thermoplastic Elastomer Feel Layer is what offers the accurate feel and gets the ball to perfect roll at the impact.
All-Black Finish:
Moreover, some players prefer a clean and simplified look at the impact. For this cause, this putter has a finish which is an appreciable & popular choice on Tour for several years. This look was created by Callaway when some of the Tour players shared their desire of having an all-black putter along with the micro hinge insert.
To build trust and provide a friendly impression, they listened and created according to their will. That is what resulted in an unbelievable putter.
Tour Proven Shapes:
Amongst many ideas of Odyssey, this is one of the inventive models that dominated various Tour events and leagues for numerable years. Being a world-class putter on major tours, they're nowhere near to stopping. The team at Odyssey is continuously working to form and tweak shapes for displaying the ultimate golfing performance.
Just as these new mallets having the toe hang are all created for players familiar with the feel, their putter face spins more in their stroke.
Conclusion:
That's why this modified putter is among the top odyssey putters and is every professional player's first choice.
BEST ODYSSEY PUTTERS – THE ULTIMATE BUYER'S GUIDE:
With the advancement of technology, it is tough for the buyer to snapping out the best club. So, for this purpose, you should read out the buying guide of that product once. The truth is, buying guides are meant to help the consumer make the best, more informed purchasing decision, always. In the second place, it's not only a source of information but it minimizes the loss and saves time and energy.
On the other hand, if you're wondering what kind of putter suits you, then my following guide will help you find the best for yourself. Here, I'll discuss whether it's a face-balanced or toe balanced putter that would suit you the most while putting greens?
Correspondingly, the head of the putter that is blade and mallet putter is taken into consideration afore purchasing. Similarly, from fitting, head shape, to grip size and lie angle, there's Odyssey to fit every one of your putting desire.
Odyssey putters are coming up with the best construction and exclusive features in a short time. Needless to say, Odyssey offers something for everyone, through its astounding shaft technology, from design to feel all of its putters are stupendous.
On the flip side, is your putter compatible with your game? All you need is consistent strokes and amazing swings that are possible only when you find an ideal putter suitable for your putting posture.
Here, talking about the best Odyssey putters, I will provide you with all the significant figures that a flawless club should attain for distant and consistent shots.
Effective Loft:
In case, you deem, how does a loft impact your game? Commonly, the putter loft should be able to roll down the ball in the cavity smoothly for stable shots. On the flip side, the degree of the angle of the loft is also notable while hitting the ball at the ground surface.
Before buying any putter you must the specs which suit you. Traditionally, the standard loft on putter ranges from 3 to 4 degrees, however, this varies on how you deliver your strokes and how you putt. Also, golfers can acquire a club with a degree of loft according to their striking techniques.
So, for consistent putting, always procure a club that has a suitable loft according to your style. Finding the accurate loft suitable for your style can help make putts run consistently and smoother, which means more number of putts.
Head shapes:
First of all, a light-weight head is a vital need for stable strokes and consistent scores on the board. The above mentioned top Odyssey putters are not only easy to handle but also assist in providing better putting accuracy.
Uniquely, blade putters are flat, narrow traditional-looking putter that delivers a faultless feel for the golf ball. Blade putters are dominant in the world of golf for their remarkable performance on the greens.
On the other hand, Mallet Putters are the best asset when it comes to producing decent distances even on mishits. With enhanced performance and best forgiveness, it is best to play on tees and greens both.
Not to mention, Mallet putters have evolved and they continue enhancing with every innovative model that hits the shelves. Likewise, with the combination of the additional weight and an offset shaft, mallet putters deliver ultimate forgiveness.
Moreover, Mallet putters have taken over a big part of the market by producing decent distances even on mishits. On the flip side, these clubs are designed for all; beginners and pro-golfers for convenient strokes and perfect grip.
Weight:
In the first place, while buying a putter you might think of how heavy you want your putter to be? At the same time, you need to purchase a putter that has an accurate weight. Correspondingly, choose a putter that's confident for you to carry, and do your swing shots.
In case, you're struggling to deliver a sleek roll to your balls, then consider acquiring a slightly heavier putter comparatively what you're currently using. Then again, if you're finding trouble while making consistent aim, then I suggest a lighter putter would be a better option.
Besides, light-weight clubs are easy to handle for continual strokes and improved feel and sound.
Length:
Proceeding towards the shaft length, you must be aware of the size which is comfortable for you according to your height. On the other hand, you have to fix your body posture comfortably. Also, it aids in perfect alignment and proper performance of the golfer in the ground. All things considered, the chosen putter needs to fit this set-up.
Following all the features of the club must procure a club that is easy to handle and can put consistent stroke over the battlefield. However, if you grasp beyond the end of the putter, a longer putter will be a better option. Also, the material in the construction should be non-slip but shiny for the elegance of the putter while playing.
Now, with the accurate putter length, the shaft would be aligned with your forearms. Albeit, a standard putter is 35 inches lengthy, however, some golfers prefer a shorter putter than a standard putter. On the whole, your club should acquire a long and suitable shaft that offers relaxed swing and distant strokes.
Grip size – style:
Having a look at grip, there are various designs of the clubs with suitable minimized grip. Also, various sizes are available to promote your ability in the game of golf. Also, liquid absorbent material should be used above the shaft for perfect grip.
Do you know that how the putter's grip impacts your golfing streak? Yes, it aids in stable and accurate shots for exceptional performance on the battlefield. With a non-slip and minimized grip over the shaft, you can achieve continual hits to roll down the ball.
Furthermore, putter grips deliver stability and comfort in your swing and putting stroke, reducing the unwanted twisting and bad shots. In like manner, the suitable putter grips will enhance your performance, and provide you the confidence to make amazing shots.
Notably, putter grips have evolved immensely over the last couple of years, indeed. Moreover, Odyssey took the putter grip world by storm with their putter grip designs; again, from thick to square grips, all were available.
Design of the putter:
There are 2 types of putter heads including face balanced and on the other hand, toe balanced putter. In particular, the face-balanced putters have their faces towards aloft. On the flip side, toe balanced putter will have a toe pointed towards the ground when you balance it in the same style.
In this case, Face balanced putters are recommended for golfers with a putting stroke that is straight back and through. Correspondingly, for better out strokes through the greens intended for consistent shots, Toe balanced is a better option, indeed.
MOI:
Additionally, a higher MOI means that the club offers more stability and is more resistant to twisting. Moreover, it plays a vital role in the controlled speed of the ball and smoother shots with a relaxed swing. It would be beneficial for average golfers through straight and controlled off-center strokes.
In simple words, MOI aids in giving all golfers a playable game even on mishits. For high playability, high MOI is also a significant thing to be noted. MOI succors in diminishing skidding, hopping, and other impact issues.
Roll quality:
Equally important, the foremost reason why a golfer needs a putter is to enhance their performance. By all means, you need to purchase a putter that can deliver a faster and extremely smooth roll to the ball. At the same time, try avoiding a putter that would give bouncing or skidding roll to the golf ball.
Here, a question arises, now how would the roll quality impact your performance? Above all, high sleek roll and top high spin get you to raise lasting confidence while striking which inexorably leads to holing more putts.
Budget:
Equally important, whether you're a professional or amateur golfer choosing the best putter within the budget is however a tough job. A point often overlooked, the putter's price doesn't need to associate with its performance.
Sometimes, a pricey putter you purchase may not come up to your expectations while a cheap putter at times wins your heart. Nevertheless, it's always a good choice to invest in the best putter. Predominantly, consumers deem this factor at the outset, before acquiring any product of use to uphold their budget.
Odyssey is not only offering high performance but also, its clubs are not heavy on your pocket. Above, the best price Odyssey putters are mentioned with all their topnotch features which are presented to you at a reasonable price along with the best playability.
Conclusion:
And here, it's time to conclude the read on the best Odyssey putters by the Brand Callaway. This article consisted of the best ones that stood out with admirable details and advantages. For me, each putter was excellent on its own as the features and specifications were salient and impressive.
These picks weren't just my top choices, but for many golfers too. With high hopes, I'm sure you found out the one you were searching for in your play. However, if you didn't, do let me know in the feedback section below. I'll do my best to help you out and solve your query.
I had a good time compiling this article for your assistance, and I hope you enjoyed reading it too. It's time for me to sign out. It was good having you here and being a help to you.
Till then, adios!
FAQ's:
1. Which is the best Odyssey putter for me?
The best putter for you has a club head and hosel shape that goes well with your arc type. The length of that putter's shaft is suitable so that you keep your eyes directly on the golf ball. As a result, you'll launch a natural arm-swing motion.
Besides, the grip and its size must be comfortable and appropriate for your hand. Subsequently, it should elevate whichever putter hold, you opt to use.