Golf is not a game of guesswork anymore. With the new and amazing rangefinder technology, you can take your regular golf game to a whole new level. A rangefinder helps you find out the distance between your location and the target.
Isn't it amazing? The game that required a lot of physical work previously can be played now with the help of a device in your hand, a rangefinder. We are going to list the amazing features of some Best Golf Rangefinder With Slope edition in this guide.
Now, what a slope is?
A rangefinder with slope technology makes it easier for you to calculate the distance and the degree of elevation to the flagstick. This will help you pick up the right club according to the slope and yardage if you are playing in an uphill or downhill area.
In simple words, the slope mode gives a second yardage calculation that is "play as" value. It's against the local golf rules to use slope, play like, or wind speed features in a competition. However, it's perfectly legal to use a slope rangefinder for practice play.
Best Golf Rangefinder With Slope 2023 – Quick Comparison:
Best Golf Rangefinder With Slope 2023 – Detail Reviews:
1. TecTecTec Laser Golf Rangefinder VPRO500S:
TecTecTec VPR0500S tops our list of best golf rangefinder with slope 2020 for many good reasons. It's efficient, reliable, cost-effective, and has a sleek design. The price is very affordable for the premium features it flaunts such as continuous scan mode, advanced pin-sensor technology, water resistance, and durability.
TecTecTec VPRO500S Laser Golf Rangefinder Features:
Pin-Seeker Technology
Slope Mode
Laser Technology
Immense clarity 6x magnifying glass
Lightweight and durable
2 Years warranty with lifetime customer support
TecTecTec VPRO500S Review: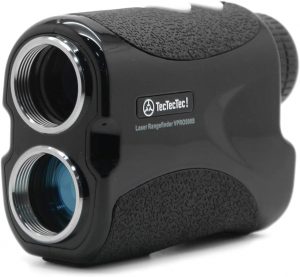 This rangefinder has many deluxe features that you'll find in some higher-priced models. It has an effective range of 540 yards with 1-yard accuracy which is enough for a majority of golf courses. The efficient 6x magnification helps you locate your target if it is too far to catch easily. All you need to do is find your target, pull the trigger, and lock it.
Also, its upgraded Pin-Sensor technology is more accurate and faster. It locks down the target and overlaps the objects behind so that you don't measure anything other than the flagstick.
The rangefinder comes with a stylish black carry case, wrist strap, manual guide, and complimentary battery. The case is shock-resistant and sturdy to keep your rangefinder safe from any impact from weather and falls.
Slope:
The slope function of TecTecTec VPRO500S is amazingly accurate. It gives you adjusted distances and not just yardage so you get a good 'play like' adjustment.
The Slope can be turned on/off for legal use in golf tournaments.
2. NX7 Pro Slope Golf Rangefinder – Laser Range Finder with Pulse Vibration:
NX7 laser range finder is one of the best golf rangefinder with slope models. It looks cool with its unique color and design. The touch and feel of this Precision Rangefinder are similar to some high-end models. It's pretty durable with an overall nice feel and looks.
NX7 PRECISION PRO GOLF RANGEFINDER Features
Adaptive slope technology
Slope and standard modes
Flag lock and Vibration technology
Quick, clear, and precise optics
2-year warranty and amazing customer support
NX7 Precision Pro Golf Review:
NX7 comes with a battery so the device is ready to go when it comes out of the box. It has only two modes, standard and slope mode. This is good because 98% of the time we use our rangefinder to get an accurate distance quickly instead of switching between the modes.
It has an amazing scan feature where you only hit the trigger and within a second it looks for the flag and provides distance. It provides accurate calculations down to the tenth of a yard. The scan feature also accompanies vibration feedback.
NX7 Slope rangefinder vibrates as soon as it finds the yardage.With an effective range of 400 yards, the device is ideal for beginner players who are looking for a budget-friendly option.
The optics are of supreme quality within this price range. You can accurately lock the device onto flags up to 400 yards away.
Slope:
The Precision Pro comes with a slope feature, which displays the yardage calculation for slope at the top and the standard yardage at the bottom of the screen. You can turn off the slope function if playing in a tournament to avoid legal issues.
3. Callaway 300 Pro Golf Laser Rangefinder with Slope Measurement:
Callaway 300 Pro Rangefinder is one of the best golf rangefinders with slope technology available in the market. If you are an aspiring golfer and want to improve the accuracy of your shots, this rangefinder is a budget deal for you.
Callaway 300 Pro Golf Laser Rangefinder Features
Up to 1000 yards range with 6x magnification
Easy to use
Pin-seeking Laser Technology
Automatic slope adjustment
Birdie feature with audible chirp signal
Callaway 300 Pro Review:
Callaway Pro has a long 5 yards to 1000 yards range with 6x magnification. With an easy to read display, where the reading can be adjusted in both yards and meters. The advance scene mode locks multiple targets and eliminates any random objects from the background.It's a lightweight device with easy to carry, compact, and durable design.
The rangefinder is waterproof so you don't need to worry while on the field in damp, rainy weather. The outer body is made of slip-proof hard plastic for a tight grip to prevent it from falls and shock.
With the help of Pin-Seeker technology, you can accurately pin down a target even from a 1000 yards away. If there are trees and other objects in the background, the Pin-Seeker technology provides an accurate distance to your target.
Slope:
The slope feature helps you adjust the uphill and downhill slope to lock the target position. It works by measuring the angle of inclination or decline and provides the adjusted calculations for the slope.This product is legal to use in tournaments. All you have to do is to turn off the slope feature which is a matter of a click only.
4. TecTecTec ULT-X Golf Rangefinder – Laser Range Finder:
TecTecTec comes again on our list with its incredibly clear and precise ULT-X Golf rangefinder. It has an attractive, compact, and easy to handle design. You only need one hand to use the device.
TecTecTec ULT-X Golf Rangefinder Features
Target Lock Technology
Catches flags at up to 450 yards and hazards up to 1000 yards
Tournament legal
Rainproof and moisture resistant
2-year warranty with lifetime customer support
TecTecTec ULT-X Golf Rangefinder – Laser Range Finder Review:
Like other laser rangefinders, ULT-X also starts with a button at the top of the device. Turn the button on and point it towards your target and get the exact yardage. It's as simple as that! It has a lock mode which signals the detection of the flag by vibrations. From acquiring and locking on the flags, it only takes a second which is pretty fast.
The display shows calculations in both yards and meters.You can acquire flags far away by the 6x magnification of the ULT-X rangefinder. With an accuracy of 300 yards, it can catch objects up to 1000 yds. which is great. Accuracy is another point that makes it worth the price, and one of the best golf rangefinder with slope models.
Yards can be measured down to the tenth decimal. It can accurately acquire flags up to 450 yards and hazards up to 1000 yards.It comes with batteries and a beautiful case that can be attached to any golf bag. The rangefinder is ready to use right out of the box.
Slope:
For more accurate shots, you can use the slope mode. You can disable the slope mode when you don't need it. Pull the faceplate to turn on the slope mode and push back to turn it off.
5. Saybien Golf Rangefinder – Laser Range Finder With Slope:
Do you hate postponing your golf game because of rain? Well, we have a budget-friendly, waterproof range finder to be used in rain without any damage. If we say that Saybien TR500S is exclusively a waterproof rangefinder, it won't be wrong.
Saybien Golf Rangefinder Slope Features
Rechargeable lithium battery with a USB cable
Continuous scan mode
Lightweight and portable
Can measure up to 1200 yards
Perfect for golfers and hunters
Saybien Golf Rangefinder Review: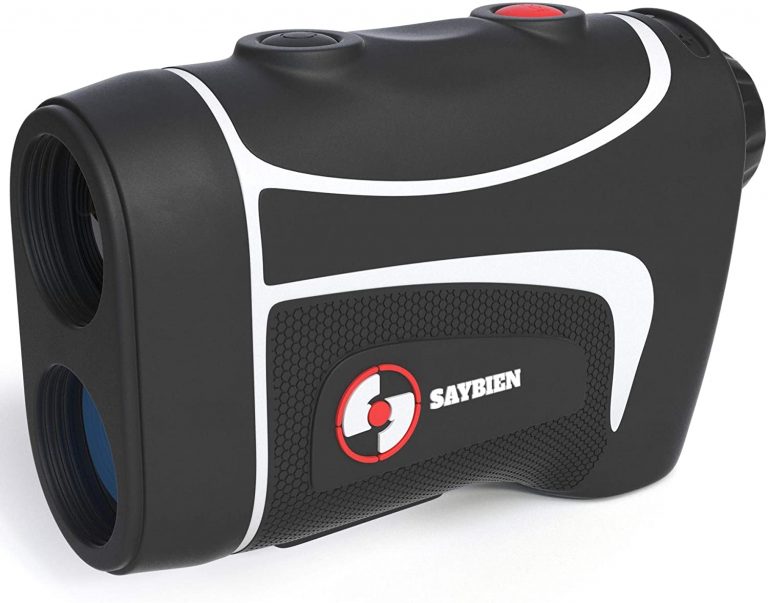 Other than its durable waterproof design, the Saybien rangefinder uses the latest laser technology and gives the most accurate and quick reading within a yard. It has 2 modes, scan mode and flag lock mode, ideal for beginners and pro golfers.
If there are objects like trees or woods behind your target and you are not sure if you are targeting on the right point, the flag lock feature comes handy.
You can use the scan mode to get an idea of the distance to all the objects within range. The flag lock makes sure that you are targeting the flag and not the trees or any other object behind.
It targets the closer object so you cannot go wrong. Saybien TR500S comes with CR-2 battery, wrist strap, a microfiber cleaning cloth, a magnetic carrying case, and a user manual. Easy to set up and use.
Slope:
Like other best golf rangefinder with a slope for the money, Saybien TR500S also comes with slope technology. It's affordable, accurate, and durable. No matter what course you are playing at, the slope feature gives you accurate yardage.
The device is completely legal to use in tournaments. You can easily switch off the slope mode, and turn back on when playing for practice.
6. Gogogo Laser Rangefinder for Golf – Slope Mode Continuous Scan:
Another amazing slope rangefinder under $100 with some premium features, Gogogo Pro GS22. It has all the modes and features that are required to play golf.
GOGOGO PRO GS22 GOLF RANGEFINDER Features
High Precision distance measurement
Flag lock and vibration function
Continuous Scan and Slope mode
5 yards to 650 yards range
Multicoated optics lens for clear image
1-year warranty
GoGoGo Pro GS-22 Review: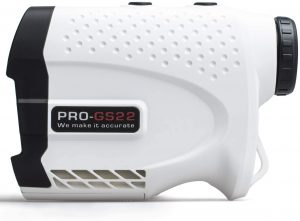 Optics are what make a rangefinder yay or nay in front of golfers. Gogogo Pro GS22 comes with a 6x magnification lens which brings faraway subjects into clear focus. The range is 5 to 650 yards with +/- 1 yards accuracy.
It also has a pin locking and vibration feature. It accurately reads the distance and vibrates once the flag comes into focus. It also provides high-precision distance and range readings. The flag locking function measures distance accurately up to 250 yards.
With continuous scan mode, you can see the distance to multiple points. This feature comes handy when there is a possibility of hazards. You can see distances to multiple hazards in the range.
The Gogogo Pro GS22 rangefinder also has speed and slope calculator which is great for the price. The rangefinder is an affordable and premium best golf rangefinder with slope model we came across with.
Slope:
The rangefinder gives "play like" distance when playing at inclines or declines. You can also turn the feature off for legal use.
7. AOFAR GX-2S Golf Rangefinder Slope On – Off:
This is another durable and waterproof rangefinder that is reasonably priced highly reliable. AOFAR rangefinder gives accurate measurements in no time.
AOFAR GX-2S Golf Rangefinder Features
Fast and accurate reading
6x magnification for clear image
Target lock and vibrate technology
Great customer support
Slope feature to measure incline/decline
AOFAR GX-2S Review: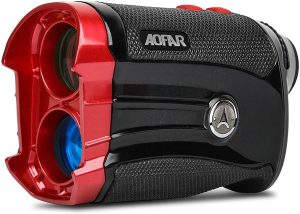 AOFAR GX-2S has an impressive range of 600 yards with 6x magnification. The pin sensor technology has ±0.5 accuracy. The pin sensor locks the flag and sends a vibration signal. The device automatically turns off after inactivity of eight seconds.
AOFAR GX-2S rangefinder comes with a CR2 battery which lasts six to eight hours when fully charged. Also, the rangefinder is waterproof and dust resistant so you can use the device in damp weather too. It is advised not to use the rangefinder in heavy rain, this might cause damage.
Slope:
Apart from being reasonably priced and having all the good features, this rangefinder comes with slope technology. Now you can up your game by practicing with the slope mode. you can use the device legally during tournaments by turning off the slope feature.
8. Rechargeable Golf Rangefinder with Slope:
Wosports has upgraded its technology and created the latest H-111 model with many extra features. The device is budget-friendly with a good range and accuracy. Wosports H-111 has a compact design, easy to hold, lightweight, and a nice look and feel.
Wosports H-111 Golf Rangefinder Features
Impressive 800 yards range
Laser range finder with slope technology
Flag locking with vibration
Continuous Scan with distance and speed measurement
Lifetime customer support
Rechargeable Golf Rangefinder with Slope Review:
H111 has 800 yards range with a continuous span mode. It quickly locks the target and locks the flag. The pin lock works perfectly by identifying the target and send signals through vibrations. It comes with a built-in, rechargeable lithium battery which is more powerful and improved.
It charges with USB cable conveniently. The Wosports H-111 has multiple functions. Distance measurement, continuous scan measurement, speed measurement, and also tells measurements in meters and yards. With all these useful features and level of accuracy, the rangefinder becomes our best golf rangefinder with slope buddy.
Slope:
Wosports H111 has the new slope feature too. Now you can take your rangefinder anywhere on the hills and play your game. The reliable battery timing and slope feature make a perfect tool for a carefree golf game. And, yes, the slope feature can be turned off for legal competitions.
9. BOBLOV LF600AG 650Yards Slope Golf Rangefinder:
With an extended range of up to 650 yards and 6x clear and precise magnification, this Boblov laser rangefinder makes its way to our best golf rangefinder with slope under $200 list. The rangefinder gives quick measurements and has a sleek black finish which looks very attractive.
BOBLOV LF600AG 650Yards Features
Pin Sensor technology with vibration
6x Magnification to lock faraway target
Flag lock distance and speed measurement
Vibration and slope feature with On/off button
Dependable accuracy and maximum clarity
BOBLOV LF600AG Review:
Boblov laser rangefinder with slope uses Pinsensor technology and provides accurate and fast measurements with +/- 1-yard accuracy. It measures all the overlapping subjects in the background to target the flag. Measurement mode can be used to easily switch between yards and meters.
You can also turn on and off vibration. It has a locking range of up to 200 yards. Boblove LF600AG gives maximum clarity and accuracy so that you can play confidently. The device comes with a built-in rechargeable battery which lasts longer.
You also get a USB cable to charge the device anywhere you want.
It has three modes:
flag locking mode
ranging mode
and speed mode.
You can get fairly accurate speed measurements.
Slope:
Boblov LF600AG has a slope feature that can be turned on/off with a toggle button. It provides calculated distance from your location to your target flag based on incline/decline. Legal to use in tournaments with slope feature turned off.
10. Gogogo Sport 650 – 900Yard Golf Rangefinder:
Here comes the cheapest of all our best golf rangefinder with slope models but the cheapest in terms of price only. Gogogo rangefinder is a compact and attractive device with vibrant and eye-catching blue color and looks good in the hand.
Gogogo Sport 650/900Yard Features
Laser rangefinder technology with Slope correction
High Precision scan feature
Pin sensor Flag Lock and vibration
Normal scan mode, Golf mode, and Speed mode
Accurate distance and slope data
GoGoGo Sport 650 – 900 Review:
It has an impressive range of 650/900 yards with an accuracy of +/- 1 yard. With 6x magnification, you can easily zoom in your faraway target. Another premium feature in this cheaply priced rangefinder is PinSensor technology. You can accurately measure overlapping subjects in the background.
The device vibrates automatically when the flag is locked. It has 3 modes to choose from. Normal scan mode, golf mode, and speed mode. You have to hold the power button and move the device. This will show you data on the device's LCD.
The gold mode shows the slope adjusted distance, which is the real distance between the player and the flag. Measure mode is used to switchyard and meter. The Gogogo rangefinder is the best golf rangefinder with slope under 100 with all the highly-priced devices features.
Slope:
Gogogo surprisingly has many high-end features such as slope technology. The slope feature calculates the angle of incline and declines and displays slope adjusted distance. This helps in measuring the distance to golf flags, woods, and hazards.
Conclusion:
I have compiled 10 best golf rangefinder with slopes for you. I hope this article will help you out to find a perfect golf rangefinder with a slope for you.
Don't forget to leave your comments below in the comment box below.
FAQs:
1. Do you need slope on a rangefinder for golf?
If you are playing in an uphill or downhill area, you need a rangefinder with a slope to adjust the distances.
2. Is a rangefinder with slope worth it?
A rangefinder with slope can improve your game but it's not allowed to use during championships or tournaments.
3. What's the best golf rangefinder for the money?
In my opinion and experience, TecTecTec Laser Golf Rangefinder VPRO500S is the best rangefinder for the money.