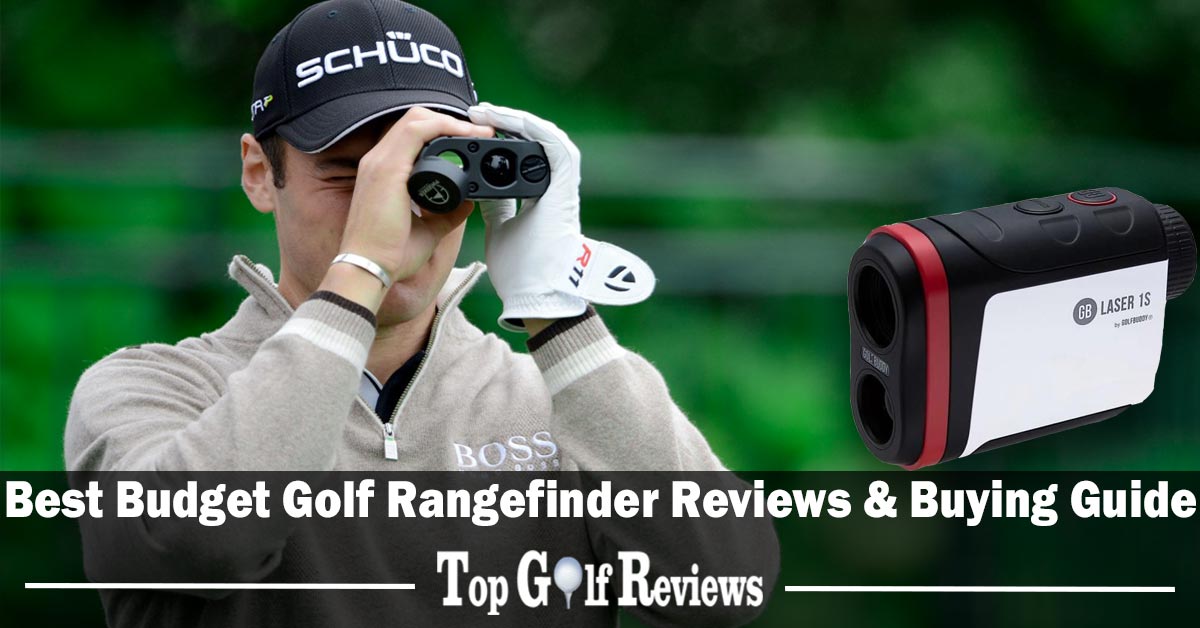 Have you ever thought about how much you spend per shot on the golf course to manage your shots and judge your distances better? A Golf rangefinder will help you decrease all the guesswork and frustration of finding distances, to carry hazards and reach targets.
There are three types of golf rangefinders used on a golf course, one is the laser rangefinder, second, a golf GPS unit and the third is a GPS watch. In the market now there is the Best Budget Golf Rangefinder that is easily affordable for the average guy.
While the top brands are very expensive and come with all the bells and whistles, there are cheaper yet high-quality options available. Below are the best budget rangefinders that are ideal for the average golfer.
In this article I hope to guide you to the best golf rangefinder without breaking the bank, also check out the end of the article to see which is the best golf rangefinder for the money.
Best Budget Golf Rangefinder in 2023 – Reviews & Buyer's Guide:
1. Saybien Golf Rangefinder – Options with and Without Slope:
This model from Saybien is very lightweight and portable at only 0.4 lbs. and very ergonomic with up to 6x magnification. They also provide a carry case, so you can keep it clean and safe between long shots.
Saybien Best Budget Golf Rangefinder Features:
Long battery life
Scan mode
Accurate
Easy to use
Lightweight design
Saybien Golf Rangefinder Review:
This model provides important data that can help to improve your decision making before you attempt your next shot. It comes with the trusted and powerful lithium-ion battery which can last over thirty hours and features a faster than average recharging time.
Performance:
It features dual-mode, scan mode, and flag lock, ideal for golfers. When you have objects behind your target and you are not sure if you have the right target, flag lock will let you know when you have got the shorter target.
It has long-lasting lithium-ion battery means you do not have to worry about replacing batteries. Just charge it via USB between rounds and you are good to go. This is the best golf rangefinder on a budget.
Range:
It can make measurements from 1 to 1,200 yards, so it should be fine for any drives or long-distance shots you need to make.
Its weight is just under half a pound, this lightweight compact range finder with great feel can fit in your pocket or carrying case. With its waterproof body, it will hold up to the toughest weather conditions. With its quick measurement, you will be able to improve your game like a pro.
2. PROADVANCED ProMini Range 750 – Laser Rangefinder:
This smallest and lightest best budget golf rangefinder highly portable with an elegant and fashionable look. It provides you everything you need for golfing, hunting, bow hunting, and other professional activities.
PRO Advanced Pro Mini Golf Range Finder Features:
Crystal clear vision and amazing optical system
Smallest and lightest design
Top-level accuracy with pin lock vibration tech
PRO Advanced Pro Mini Golf Range Finder Review:
Pro mini range 750 is by far the smallest, lightest, and elegant look rangefinder in the market. This best budget golf GPS rangefinder is simple, when you use it, it provides exactly what you need.
Performance:
The first thing you need from a good rangefinder is its accuracy. You will not find any other rangefinder on the market that can exceed its accuracy level. It gives you exact distances to the flag making and club selection simple and consistent.
To add even more confidence when you measure farther targets, Pin Lock Vibration Technology sends you reinforced feedback when the laser has locked onto the target! With the scan mode, you only need a few clicks on one button to easily get everything you need.
Range:
Featured with an amazing optical range of 750, the latest multi-layer coated lenses and 6x lens provide the greatest contrast and clarity. Its long durability with a water and dust resistant shell, perfect for use under any conditions.
One of the first rangefinders comes with a belt clip. It can be securely attached to your belt or back pocket without affecting any of your movements.
3. PEAKPULSE Golf Laser Rangefinder with Flag Acquisition:
PEAK PULSE Golf Laser Rangefinder with slope technology, flag acquisition, pulse vibration, and fast focus system, perfect for choosing the right club. It is the best budget golf rangefinder with a 500-yard range.
PEAK PULSE Golf Laser Rangefinder Features:
Fast focus
Flag Acquisition
Ergonomic design
PEAK PULSE Golf Laser Rangefinder Review: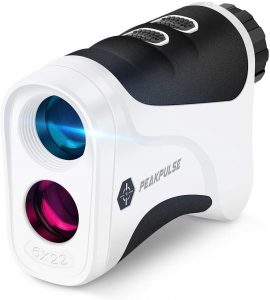 A good golf rangefinder is the one that gives an easy time like the small and compact Peak pulse. This ergonomically designed rangefinder will make it easy for users to keep things stable and to reach all the buttons.
Performance:
To play the best golf you need appropriate information. This golf rangefinder gives you exact distances and making club selection simple and easy. And the measurement that it provides is very accurate, and you do not need to check the distance twice.
Peak pulse is the perfect combination of size, accuracy, vibration, and Slope. Slope-Button technology lets the golfer easily toggle in and out of the Best peak pulse slope rangefinder function. Play better, perform better, and improve your accuracy with the PEAK PULSE golf rangefinder.
Range:
The magnification range of this product is 6x, which ensures a clearer view of the target. And it helps to aim at the destination quickly. The measuring range of this device is from 6 to 500 yards.
To save battery this rangefinder will automatically shut down after 8 seconds of inactivity. To turn it back on, simply press the power button again. Overall, it is the best rangefinder under $200
4. AOFAR GX-2S Golf Rangefinder Slope:
Compared to other budget rangefinders the GX-2S is impressive and best golf rangefinder cheap. Its features and functionality combined with its portable design mean this product holds its own when compared to the other expensive golf rangefinders.
AOFAR GX-2S Budget Golf Rangefinder Features:
600 Yards Range Finder
Slope switch technology
low power consumption
Waterproof and dust resistant
AOFAR GX-2S Golf Rangefinder Review:
GX-2Sprovides you with the ability to enhance and improve your game. Its impressive battery life, ease of use, user-friendly design, and impressive capabilities make this device one that deserves its spot in golf bags around the world.
Performance:
The AOFAR GX-2S comes with a CR2 battery. Once fully charged, this device will last between 6 to 8 hours. The HD camera of this rangefinder also comes with 6-time more accurate magnification for better aiming.
Furthermore, with the minimum scan distance of 30-meters, this unit scans the objects from far to near format. This precise best golf rangefinder helps you to measure the flag distance and allows you to lock on the closest targets.
Range:
By using this rangefinder, you can also measure the yard ranges from 5 to 600-yards. Plus, its two-year warranty is proof that the manufacturer stands behind their product. The GX-2S is synonymous with portability. Weighing in at only 180 grams, this device will not weigh you down.
5. Laser Range Finder 900 Yard RangeFinder:
Laser rangefinder has entered the incredibly competitive rangefinder market with its rechargeable battery that lasts around 5,000 measurements between charges. It is an amazing best budget golf rangefinder Reddit.
Budget Laser Range Finder 900 Yard Features:
Seven modes to choose
Accurate to within 0.5 yards at up to 200 yards
Includes wireless charging base
Laser Range Finder 900 Yard Review: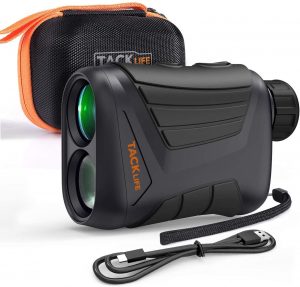 The Laser also offers better visibility for accurate target finding with the help of multi-layered optics. Furthermore, this water-resistant device comes in a convenient carrying case and wrist band for better transportability.
Performance:
When it comes to the performance this highly efficient golf rangefinder can measure straight-line distance, horizontal distance, angle distance, and vertical height measuring.
It is furthermore designed with convenience and practicality in mind to make it effortless to hold in your hands. Golfers with bigger hands will be grateful for the ease of use and easier to control design. Golfers with smaller hands may find it a bit more awkward to hold and aim.
Range:
With a maximum measuring range of 900-yard, this golf range finder comes with 7-time more accurate magnification. This device is also suitable for several outdoor activities, like golfing, hiking, hunting, and more.
Moreover, it has a 750-mAh rechargeable lithium battery. So, you can measure accurately over 3000-times with a single charge by using this device. Overall, this is the best budget golf rangefinder.
6. Wosports Golf Rangefinder 650 Yards Laser Distance Finder with Slope:
Wosports is one of the most trusted brands in the golf community. It allows you to measure distance accounting for the incline or decline. The view from within this rangefinder is crystal clear and the slope distance is displayed on the bottom of the screen.
Wosports Golf Laser Rangefinder Features:
Pin finder mode with vibration
6x magnification
Water-resistant design
Wosports Golf Rangefinder Review: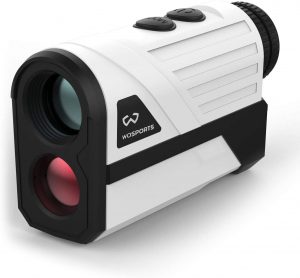 The Wosports has a sleek and modern design with relatively few features, which is essential for the everyday golfer who just needs a simple measuring device. Although it does not boast a lot of features, it is the best golf rangefinder budget.
Performance:
This rangefinder is easy to use and gives quick, accurate measurements. Moreover, the device comes with speed and fog modes. So, you can measure the accurate distance and aim targets in any situation.
The pin finder technology works well and vibrates strongly when it detects it is aimed at a pin. There is a visual switch to clearly show your playing partners in a tournament that you are not using illegal slope features.
Range:
With the help of 6-time more accurate magnification, this Wosports range finder comes with a maximum measuring range of 650-yards. The functional battery cover design of this product also prevents the battery from missing.
This device also comes along with a flag-lock with a vibration system. Therefore, the rangefinder vibrates by locking the flagpoles.
Furthermore, this equipment precisely aims flagpole up to the distance of 180-yards. With the help of flagpole and range modes, the device helps you to identify the flagsticks.
7. Upside Golf New & Improved LOCK ON Rangefinder:
Upside lockon is the world's first rangefinder with a built-in magnet. Lockon has all the features of a high functioning rangefinder like 2 modes: slope and tournament mode, water repellant, auto power save battery.
Upside Golf LOCK ON Rangefinder Features:
Accurate with Pin vibration technology
Dual-mode settings
Quality and stability
Upside Golf New & Improved LOCK ON Rangefinder Review: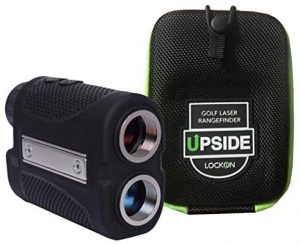 Upside rangefinder has been the choice of many golfers for reliable yardages to pins and hazards around the golf course. Being able to point and shoot distances to tree lines, and green can help each player be more confident in their club selection.
Performance:
Whether you want to check your distance in yards or meters, you can switch back and forth easily with one press of a button. This golf rangefinder comes equipped with a premium hard case, 2 CR2 batteries, a cleaning cloth, a carry strap, and a hook.
The magnet is strong enough to keep it attached to the cart, even while moving at high speed. This rangefinder was designed to be accurate within 1 yard.
Range:
The Upside LOCKON rangefinder has an impressive range of 650 yards and features a multi-colored lens that is a huge help in distinguishing hazards, flag spots, and trees.
Knowing that this rangefinder is water-resistant is sure to give some relief to golfers who love playing, even in the rain. Lockon rangefinder is the best budget golf rangefinder with slope.
8. BOBLOV 650-Yards Golf Rangefinder:
The BOBLOV golf rangefinders are introduced to provide the next development of flag-lock with the technology of vibration. Its slope function helps you to enhance your golf skills. It helps you to toggle between the advancement of measuring slope.
BOBLOV 650-Yards Golf Rangefinder Features:
The slope on/off function
Pin-sensor function
Multiple modes
Flag-locking mode
Rechargeable battery
BOBLOV 650-YARDS Rangefinder Review: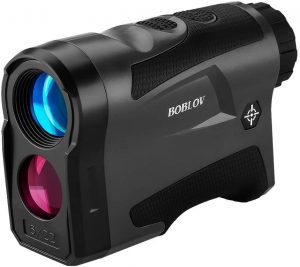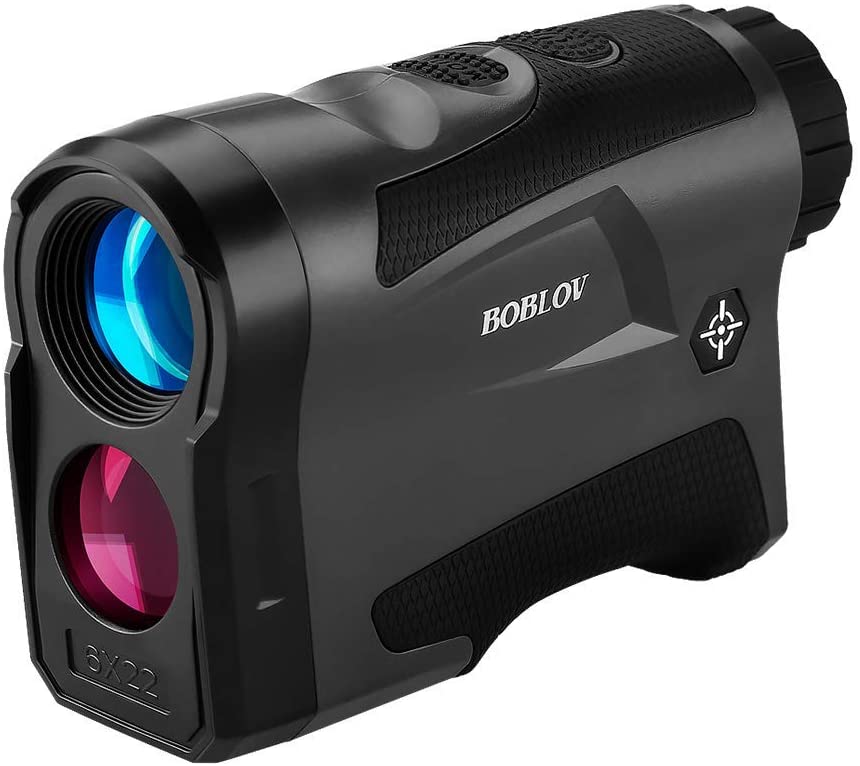 The rangefinder provides fast measurement with 1-yard accuracy. The technology of pin-sensor provides precise measurement of overlapping objects. This device is the best budget golf range finder.
Performance
The fast flag locking feature gives you fast measurement. You can easily switch the units between the meters and yards. The customized switch button is used to control the vibration on/off.
The rangefinder measures perfectly with the slope distance of about 1-3 yards off within 200-yards. It is more tolerable for 99% of the ranges. It is a great tool to watch the vehicle.
The device is featured with the three modes as Ranging mode, Flag-locking mode, and Speed mode. It supports the speed measurement. When you short press the power button after directing the objects, all the data of speed will be displayed on the LED screen.
Range
The magnification of the objective id 6x 22mm. It measures the range accuracy of +/-1 -yards and speed measure with accuracy at +/-5 km/h. It is a perfect tool for hunting without carrying the extra weight. Boblov is the best budget golf rangefinder UK.
9. MiLESEEY Professional Precision Laser Golf Rangefinder 660 Yards with Slope:
The MILESEEY professional rangefinder device is introduced to measure the distance perfectly in the first experience. The device is best for calculating the distance for up-hills and down-hills. This will help you to select the right club and hit the ball with confidence.
MILESEEY Professional Laser Golf Rangefinder Features:
Flag Acquisition technology
Adjustable eyepiece
Multiple modes
Diopter adjustment
MILESSEY Professional Laser Golf Rangefinder Review: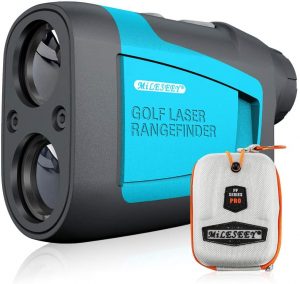 MILEESSEY Golf rangefinder measures the distance accurately within the range. It is the best budget golf rangefinder that offers you the affordability. The slope compensation automatically calculates the down and uphill distance.
Performance:
The device is developed with TOF technology. The angle slope reward system offers you an accurate angle-compensated distance.
It measures the flag-pole lock and distance speed.
The multi-coated lens gives you a more pure and richer measurement. The device is best for estimating the golf-flags, wooden areas, and hazards. The fast target lock technology scans and locks the nearest target range accuracy.
It measures the target distance with flag-pole scan and slope compensation. It gives you golfer accurate yardage to the flagpole locking up to 200 yards.
Range:
It can measure up to the range of +/- 0.5M/0.55 yards. It can measure at 600m/660 yards. It has the magnification of 6X. The diopter adjustment range is +/- 5D and 7-degree field with a coated lens.
In short, you can say it is the best budget rangefinder for bow hunting and other outdoor activities. The device is best and suitable for long-distance outdoor measurements.
10. Nikon Coolshot Pro Stabilized Golf Rangefinder:
Coolshot Laser rangefinder is the most compact and lightest model of the Nikon golf line. This easy-to-use tool not only provides accurate measurements for every shot, but it can also help you learn to manage your game better.
Nikon COOLSHOT 20 Golf Laser Rangefinder Features:
Target Priority Mode for nearest distance acquisition
Waterproof and fog proof
Continuous eight-second panning mode
Extremely small, lightweight, and compact
Nikon Coolshot Pro Stabilized Golf Rangefinder Review:
This Nikon 20 is completely weatherproof and ready for all types of obstacles, including atmospheric, while on the green. It is the perfect, little unit to learn how to take charge of your game.
Performance:
One push of the power button and the rangefinder will continuously measure the range for eight seconds. This is useful when trying to find measurements of multiple, small, or thin objects, allowing you to know the distance to hazards, pins, mounds, and trees in one push of the button.
Through this, it is very easy to pick up flags or other objects to 200 yards. It is one of the best cheap golf rangefinder.
Range:
The Coolshot 20 features a 6x magnification lens that is accurate up to a range of 550 yards. You just point it at your target and then push the rear button that then turns the device on so you can get the target.
After around 8 seconds it automatically turns it off to save battery power and there is a battery charge meter on the screen to keep an eye on this. However, this golf laser rangefinder is worth a look.
Conclusion:
Hopefully, you will pick everything you want to know in this guide so you can find the best rangefinder under your budget. Choosing the best budget golf rangefinder can be a difficult task, but after reading this guide there are few key points that one must keep in mind before buying.
After doing research and reviewing different rangefinders I concluded the 3 best options for you. Those 3 are Saybien golf rangefinder, Peak Pulse, and Laser rangefinders.
They are high quality, affordable with high magnification range, and seems to be an instant hit amongst golfers once they try it out. If you buy any of these, I hope that they will help you feel more confident than before.
Do share your reviews in the comment box below.
FAQs
1. What is the best golf rangefinder for the money?
PRO Advanced Mini Golf Rangefinder is the best for the money because of its features and highly portable with an elegant fashionable look.
2. Are cheap golf rangefinders any good?
Price does not matter, if any cheap rangefinder completely satisfies almost all the needs of golfers same as the expensive one then no need to go for very expensive rangefinders.
3. Is slope on a rangefinder worth it?
The slope on a rangefinder is a nice feature, it can improve your game score, but I do not think so it is worth it because it is not allowed to use this feature in the competition.